About us
Nibble is a financial platform that connects investors and lenders throughout Europe. The investment guarantee adds a layer of security as the loans are issued by companies which are part of the IT Smart Finance Group. These are: Joymoney ES, MX, RU
The Joymoney brand has been working in the field of alternative loans since 2014. The company is based in Russia and operates in Russia and Spain. The Mexican operation is scheduled for launch in 2020. Joymoney's mission is to provide its customers with the opportunity to solve their financial difficulties quickly and safely. The company uses its own innovative developments, including patented software solutions, big data analysis, a scoring model system and risk management solutions. The company guarantees reliability for customers and investors.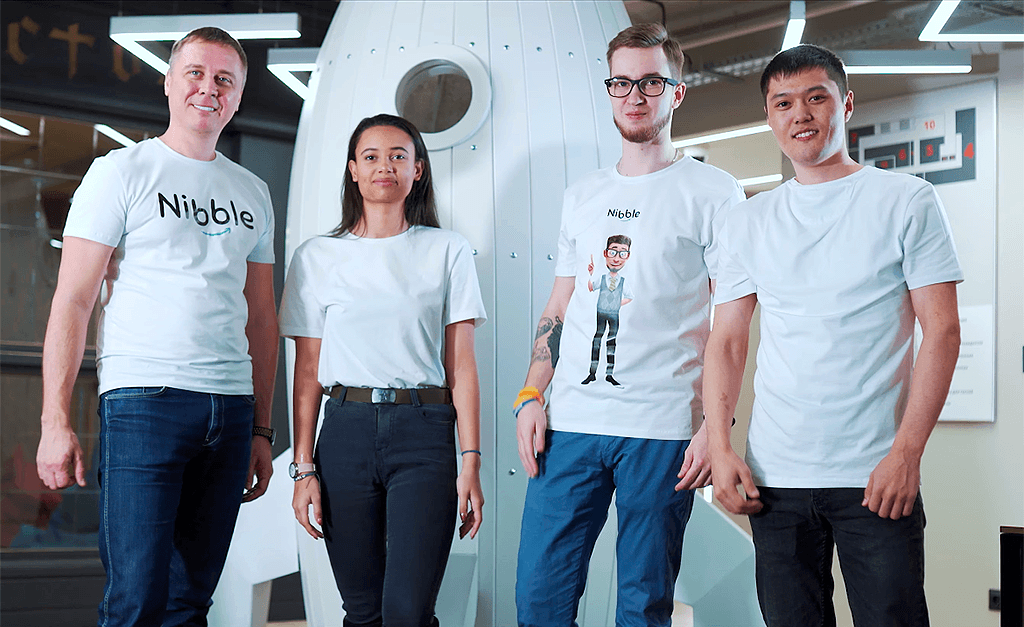 Our products
Short-term loans (PDL):

Loan amount — up to €500;

Loan term — up to 30 days;

Installment loans (Installment):

Loan amount — up to €1.000;

Loan term — up to 90 days;
Nibble is based on the «Peer 2 portfolio» model. We offer investors the opportunity to invest in alternative loans simply and safely. Nibble offers investors a Buyback guarantee even if the loan is past overdue more than 60 days.
Nibble allows investors to create an investment portfolio in a fully automated manner. The investor can establish the portfolio parameters like investment amount and period.
One of Nibble's main features is that it offers investors a return on their investment of up to 12%, exceeding the average profitability of the market
Our values
Transparency

Partners and investors are vital to our success. We try to establish open relationships with all market members

Professionalism

We have extensive experience in the FinTech industry, and we know what our clients need

Innovation

We are constantly searching for technological innovations
Our Team
Maxim
Pashchenko

Founder

Maxim is an international businessman with vast experience in innovative technologies and is supportive of fresh, up-and-coming business trends. He has over 12-years' experience in business management, having founded his first company in 2007. In a short time, Maxim has become one of the most well-known and successful entrepreneurs in his region. In 2013, he assembled a team of talented IT developers to create a unique Fintech platform for online consumer lending services. This platform is now the cornerstone of several fast-growing Fintech companies. Maxim studied engineering at one of the leading universities in Siberia, known for his powerful academic potential. He also received financial and economic training at the Moscow Business School. He enjoys winter sports and promotes the protection of animals and the environment.

Marina
Smirnykh

Chief Executive Officer

Before joining IT Smart Finance, Marina worked for more than 20 years in senior positions at top banks, such as Home Credit Bank and Sberbank. During the development of her professional career, Marina focused on the consumer loan sector. She acquired extensive experience in this area at the FinTech company Joymoney, which she headed from 2014. Joymoney has become one of the most famous and fastest-growing brands in Russia's online consumer lending market. Marina has a University degree in Economics Management. She supports a healthy lifestyle and dedicates her free time to stay at home with her family. She also supports charities which help children with bad health and serious diseases.

Ivan
Sharafiev

Chief Business Officer

Ivan Sharafiev graduated in Economics at the ESERP business school (Madrid, Spain), one of the most reputable business centres in the country. He completed his training with a master's degree in International Relations and Foreign Trade at the ESERP business school in Barcelona. In 2015, he held the position of Gazprom Vice President's Assistant. Gazprom is Europe and Turkey's largest gas supplier. Ivan loves martial arts and received the title of black belt in the Taekwondo WTF championship. In addition, he has been the winner of several Asian and international championships. He is a true competitor.

Maria
Veikhman

Head of Risk Department

Maria has more than 15 years of experience in the IT sector and 5 years of experience in the credit business sector. She studied for a Mathematics degree at the National Research Polytechnic University of Perm and complemented her training with a master's in business administration and International e-commerce Management at Yeditepe University, in Turkey. Finally, she completed her business practices at Franklin's University in the USA. In 2013, when she realized how difficult it was to find good credit evaluation specialists, Maria founded a company called "Scorista", which offers a risk management service for non-bank lenders and alternative organizations which provides instant credit decisions: "Approved" or "Rejected". The service is equipped with the best technology and allows companies to analyze data to approve or reject operations in a fast way and with a forecasting accuracy of 93%.

Vladimir
Shepelev

Chief Information Officer

Vladimir is a qualified mathematics engineer in the field of programming and the creation of scalable IT systems. For 16 years, Vladimir led the development team of MTS, the TOP 2 mobile operator in the CIS region. He is the creator of several unique IT solutions and technologies. Vladimir loves mountaineering and his greatest achievement was reaching the crest of Mont Blanc, the highest peak of the French Alps at 4.810 meters altitude.

Tatiana
Kolodchenko

Сhief Financial Officer

Tatyana is a financial expert with more than 15 year's experience. She has occupied high positions in recognized companies such as Coca-Cola HBC, Johnson & Johnson and IDFinance. She studied for an MBA at ESADE (Barcelona), had obtained the CIMA qualification (Chartered Institute of Management Accountants) in the United Kingdom and finally completed her training with a master's degree in Economics at the University of Novosibirsk (NSU) in Russia. Tatyana is focused on achieving high business profitability. She is an expert in the strategic and operational planning field and in reaching the company's financial objectives. Tatyana has lived and worked in several multicultural environments in different regions of the world and she defends the organization's pluralism as an important factor in growth and creativity.