Über das Unternehmen
Nibble ist kein Marktplatz, sondern eine Plattform für Kreditinvestitionen, die von den unter der Marke Joymoney in der IT Smart Finance Holding zusammengeschlossenen Unternehmen vergeben werden. Nibble ist Teil der ITSF-Holding und fungiert als Bindeglied zwischen Investoren und Kreditgebern. Die Plattform bietet ein flexibles Investitionskonzept, das auch für beginnende Investoren geeignet ist.
Die kreditgebenden Unternehmen der Holding arbeiten unter dem Markennamen Joymoney
Die Marke Joymoney ist seit 2014 im Bereich der alternativen Kreditvergabe präsent. Das Unternehmen dahinter ist in Spanien und Russland tätig. Die Aufnahme der Geschäftstätigkeit in Mexiko ist für 2021 geplant. Aufgabe von Joymoney ist es, Kunden bei der schnellen und sicheren Lösung finanzieller Schwierigkeiten zu unterstützen. Dazu setzt das Unternehmen seine eigenen Softwareprodukte für die Analyse großer Datenmengen, das Scoring und die Risikomanagementprozesse ein.
Jedes Finanzunternehmen, das sich auf die Vergabe von Krediten spezialisiert hat, verfügt zwangsläufig über Kredite, die nicht innerhalb der im Vertrag festgelegten Fristen zurückgezahlt werden. Viele Unternehmen verkaufen solche Kredite in großen Portfolios auf Auktionen mit einem Abschlag von 85%, um einen Teil des Geldes schnell wieder in den Betrieb investieren zu können.
Solche Portfolios kauft Boostr auf Auktionen.
Dank der umfangreichen Erfahrung und der von Boostr entwickelten Technologien ist es möglich, eine hohe Kapitalrendite zu erzielen. In Eurasien verfügt das Unternehmen über mehr als 5 Jahre Erfahrung und mehr als 80 Mitarbeiter.
In Europa arbeitet Boostr mit Inkassobüros, die sich auf das Inkasso von Forderungen aus europäischen Krediten spezialisiert haben.
So verdienen wir Geld für Investoren:
Boostr kauft überfällige Kredite von Banken und MFOs bei Auktionen mit einem Abschlag von 85%.
Die außergerichtliche Einigung beginnt, indem die Agentur mit dem Kreditnehmer Kontakt aufnimmt und versucht, sich über die Rückzahlung der Schulden zu einigen.
Wenn keine Einigung erzielt werden konnte, beginnt das Gerichtsverfahren, um eine gerichtliche Entscheidung über die Eintreibung der Schulden beim Schuldner zu erwirken, die von Boostr oder seinem Partner verfolgt wird.
Nach Erhalt eines Gerichtsbeschlusses werden die Schulden, Zinsen und Bußgelder durch Gerichtsvollzieher und Banken eingezogen.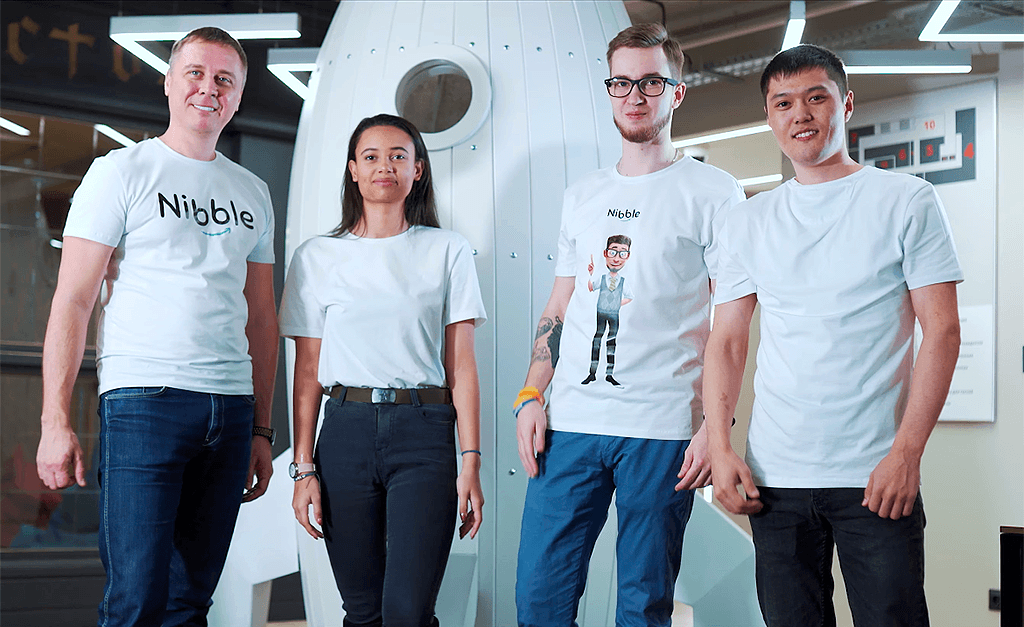 Die Finanzplattform Nibble arbeitet nach dem Peer-to-Portfolio-Modell und ist sowohl für beginnende Investoren als auch Profis gedacht. Wir haben den Investmentprozess automatisiert: der Investor wählt die Strategie, den Betrag und die Laufzeit der Investition aus. Die Plattform selbst wählt die Kredite für das Anlageportfolio aus und verwaltet die Reinvestitionen.
Nibble bietet ein flexibles Investitionsmodell mit drei Anlagestrategien, wobei die jährliche Rendite zwischen 8 und 14,5% liegt
Unsere Werte
Offenheit

Sowohl unsere Investoren als auch Partner sind unsere Begleiter auf dem Weg zum Erfolg. Wir pflegen eine transparente Beziehung zu allen Marktteilnehmern

Professionalität

Unser Team besteht aus Fachleuten mit langjähriger Erfahrung im Bereich der Fintech-Dienstleistungen und dadurch verstehen wir die Bedürfnisse unserer Kunden bis ins letzte Detail

Fortschrittlichkeit

Wir arbeiten aktiv an Neuerungen, um die Bedürfnisse unserer Kunden zu erfüllen. Unser Team ist immer auf der Suche nach neuen technologischen Lösungen
Unser Team
Maxim
Pashchenko

Founder

Maxim is an international businessman with experience in the field of innovative technologies and is supportive of fresh, up-and-coming business trends. He has over 15-years' experience in business management, having founded his first company in 2007. In a short time, Maxim has become one of the most well-known and successful entrepreneurs in his region. In 2013, he assembled a team of talented IT developers to create a unique FinTech platform for online consumer lending services. This platform is now the cornerstone of several fast-growing FinTech companies. Possessing such qualities as leadership, business mindset, the ability to find new opportunities and seeing the risks, Maxim determines the long-term development strategy of the group of companies and plans new business development directions.

Ivan
Sharafiev

Chief Executive Officer

Ivan graduated from ESERP Business School (Madrid, Spain) with a bachelor's degree in Economics. He also has a Master's degree in International Relations and Foreign Trade at the ESERP Business School in Barcelona. In 2015, he held the position of Assistant Deputy Director of the property department of a large gas company. Ivan has extensive experience in the field of financial technologies and the advancement of startups in the European Union to the level of companies with revenues of more than 12 million euro per year. In the company, he is engaged in the development of new business lines, the launch of projects, communication with investors.

Lyuldmila
Borodina

Chief Operational Officer

Lyudmila has an education in the field of Finance and Credit. Before joining the IT Smart Finance team, she had been working for a large international holding company Lime Credit Group, where she held the position of Executive Director. She is responsible for the organization and control of business processes of the entire group of companies, optimization of processes and services, monitoring compliance with mandatory regulatory standards. Lyudmila always achieves her goals and objectives thanks to her perseverance and solid knowledge

Vladimir
Shepelev

Information Techology Director

A qualified mathematical engineer, Vladimir is a distinguished professional in the field of programming and the creation of scalable IT systems. For 16 years, Vladimir had been leading the development team of MTS, the largest mobile operator in the CIS region. He is the author of several unique IT solutions and technologies. He also helps to implement the latest developments in the company. Continuous improvement of the level of his knowledge allows him to perform projects of any complexity and find the most effective solutions.

Alex
Paiella

Innovation Manager

Alex gained his experience working for many years in prestigious consulting firms (Innovation Manager at Ateknea Solutions) in 4 countries on 2 continents, as well as in public institutions of the European level. He knows how to help an aspiring startup overcome technological barriers and eliminate gaps in innovation for business development and entry into new markets. Alex raised more than 10 million euro for various digital projects from EIB. He is part of our team in Barcelona (Spain).

Yuri
Dergunov

Chief Legal Officer

A professional with 15 years of experience in both classical financial institutions (Societe Generale Group) and modern FinTech (Lime Credit Group). He has a degree in Law, Crisis Management, Economics and Management. Yuri is a specialist in corporate governance, licensing, AML, GR and compliance assurance. He provides reliable business support in relations with regulatory authorities and is focused on a team approach and compliance with high standards of efficiency.

Tatiana
Muminova

Financial Officer

Tatiana has more than 13 years of banking experience in the field of foreign trade financing of large corporate clients, more precisely in the UniCredit financial holding and OTP Group. During her career, she was engaged in the development and support of structured financing schemes between banks from the countries of transactions, the EBRD, IFC, export agencies such as Sace, Exim, Exiar. Tatiana is experienced in organizing financing management from scratch to the point of reaching the planned targets in 6 months. In the company, she carries out financial planning, preparation of financial statements and financial risk management. Tatiana lives and works in Barcelona (Spain).

Irina
Bychkova

Digital Marketing Manager

Irina has over 10 years of broad experience in high-tech global companies across European, African, and Asian markets. In 2014 working in leading freeware Browser & Search Engine, Chrome Plus in Vietnam, she built deep and solid technological knowledge combined with digital marketing strategies and sales techniques. These key assets make Irina a high-qualified digital marketing professional who is able to work in the most complex industries. In her client list, such top companies as CitiBank, Samsung, P&G, OPPO, Lenovo, Colgate-Palmolive, Lazada Group. Currently Irina lives and works in Barcelona (Spain).